or you can write to me at: 26 Central Avenue Hamden, CT 06517 New England, USA
The Ivory Bills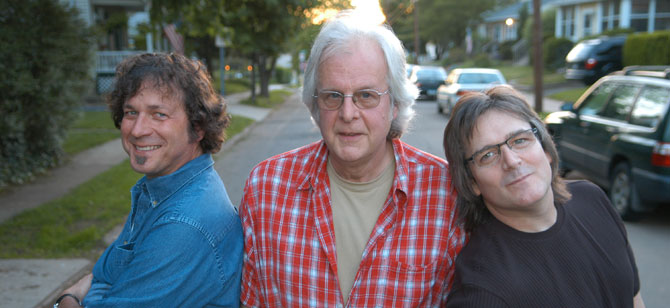 John L. — electric guitar.
James Velvet — songs, vocals, bass.
Johnny Java — drums.
"Tight & Tasty. Truly honing the power trio concept with balance, not bombast"
- Gary Vollono, IndepenDisc.com
The Ivory Billed Woodpecker is the (perhaps mythical) lord of the marshlands of Arkansas and Louisiana. The loudest bird in the forest, known as "The Lord God" bird.
The Ivory Bills band has a full-length CD "Rhythmic Jet Ear Games," and two EP's "In Color" and "Boom Boom Room." They're available at CDBaby, or IndepenDisc. Check out song samples at either site.
"Bass guitar is my first instrument, and I like to play loud."
-JV
Brian LaRue, The New Haven Advocate writes: "James Velvet and friends masquerade as a simple, salt-of-the earth bar band… They almost get away with it, unless you listen closely and hear how Velvet's expert sense of narrative plays out; how the sing-songy verses build into broadly tuneful choruses; how the band's kinda-bluesy chug reveals a sharp knowledge of rock 'n' roll traditionalism. If you know Velvet's stuff, this is what you might expect from him in rock mode — and it's just as inspired, human and humane as you'd hope."
Pat Ferrucci, The New Haven Register picked "Rhythmic Jet Ear Games" as one of his top ten New Haven faves for '09. "You know a James Velvet song: expertly crafted lyrics featuring witty turns of a phrase sung over a nuanced and driving backing layer of instruments. Lately, Velvet's been doing his thing on record in a minimal, acoustic way. With The Ivory Bills, Velvet, longtime musical partner Johnny Java and guitarist John L. take a group of polished tunes and turn them into bar-band climaxes. This is a well-oiled set of rockers."
Click on any of the album covers below to learn more and listen to songs from the album.