or you can write to me at: 26 Central Avenue Hamden, CT 06517 New England, USA
Radio Radio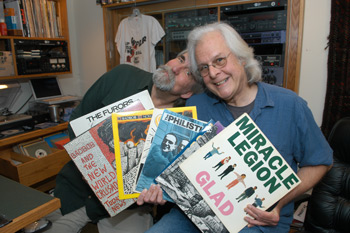 I've been lucky to be on the air, in one way or another, almost my whole adult life. Since 1988 my friend Rick Allison and I have hosted a once-a-week radio show, "Local Bands!" It airs on Sunday nights at ten o'clock on WPLR, 99.1 FM.
We aired show # 1,000 on July 15, 2007. Show # 1,122 aired on 11/22 of '09! — Go figure.
Here's what makes our show different from many other local music shows.
It's been on the air continuously for a long time. Big thanks to our friend John Griffin.
We have a sense of history, we keep a library, and we don't mind mixing older songs with the new material we get every week.
WPLR is 50,000 watts. That's 50,000. It reaches all of Connecticut and parts of New York and Massachusetts.
We actually like music. And we listen to all the submissions.
We've always had local sponsors. We're proud of the fact that for much of our history we've been sponsored by two breweries, a bar, and and two guitar stores.
I probably know more about the local scene than the national one. (Is there such a thing?)
If you can hear WPLR over the air where you live and make your music, send us your stuff at P.O. Box 6508, Whitneyville, CT. 06517. We'd love to hear it. Visit the web site.