or you can write to me at: 26 Central Avenue Hamden, CT 06517 New England, USA
Bio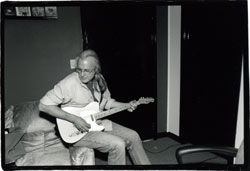 I've been writing (plays, poetry, essays, grocery lists, postcards and love letters) since I was a little Velvet. At age twenty-one I discovered by accident that I could sing.
I've played in New Haven area bands since 1980 or thereabouts: cover bands, original music projects, blues, country, rhythm and blues, even a jug band, but mostly rock'n'roll. Maybe we've run into each other?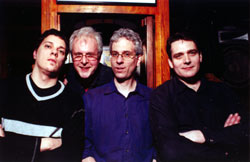 The longest running of all these bands was The Mocking Birds. We played for a dozen years ('91 -'03) out of New Haven, blending my original songs with a quirky cover list (who else would cover Muddy Waters and Abba?). We had a once-a-month residency at cafe nine in New Haven, played at many Connecticut clubs and festivals, and opened for such big-timers as The Band, The Kinks, The Stray Cats, and Jefferson Starship. We released three full-length CDs and four EPs of my songs.
We still get love letters.
"A mix of tasty licks, lazy bones riffs and energetic rock 'n' roll… presence and personality honed by years of bar room gigs."
-Fran Fried, New Haven Register
These days I play in two bands.
I play electric bass, sing, and write songs in The Ivory Bills. Just to keep things confusing, my pal Johnny Java, who played bass in The Mocking Birds (I played rhythm), plays drums in the I. B's. We're joined by the talented guitarist John L., and we make a good racket. Check us out at a gig.
"…equally comfortable with a sweet sounding acoustic or a nasty telecaster."
-Frank Critelli, CTMusic.com
But I love my acoustic six-string, so I play in The Lonesome Sparrows. Johnny Memphis plays guitar and violin and sings harmony, DickNeal plays dobro, mandolin and banjo, and Johnny Java plays bass. Memphis and I play dozens of farm market gigs, and the whole band can be heard at coffee houses, art galleries, bookstores, cafes and the like.
So, I play in two bands with three guys named Johnny. Pretty cool. I can sing, "Take it, Johnny" at any time in either band, and know I'm covered.