Click to email me or you can write to me at: 26 Central Avenue Hamden, CT 06517 New England, USA
Saturday, May 4
Me 'n' J. Memphis
City Seed @ Wooster Square (Saturday)
City Seed @ Edgewood Park (Sunday)
City Seed again! This time it's the official openings of the Summer Market schedules.
Featuring the ceremonial first head of lettuce toss, at 9:00 a.m. on Wooster Street, Saturday, and 10:00 a.m. at Edgewood Park, Sunday.
Johnny and I will simultaneously play guitars and drink coffee. We'll be at both markets all day. Stop by and say Yo.
Saturday, May 4
Me 'n' Memphis redux
United Church On The Green, Nu Heaven
Johnny and I will head over to The United Church on The New Haven Green after the Market to play at Kidstock!
The United Church is the one catty-cornered from the New Haven Library. It's an all afternoon event with lots of great music. Running concurrently with festive May Day activities on The Green.
You should be there. Sunshine.
Friday, May 10
The Ivory Bills
Dick Neal
Huntington Street Cafe
This is one of The Bills' favorite places to play. It's friendly.
The very talented Mr. Dick Neal will open with a rare solo set of his own tunes.
His songs are as good as his playing, and that's saying something.
Music from 8 to 11. Beer, Wine, food. Free!
Thursday, May 16
James Velvet
Lys Guillorn
Huntington Street Again!
JV and Lys Guillorn will play solo sets of their own fine tunes. Dick Neal hosts this kick-off to his "Troubadours" series.
Music at 7:30.
Thanks for stopping in.
Writing and singing songs is my passion. This has led me to pursue a life of performances and recordings. Big thanks to Nancy Lee.
I play in two bands.
Acoustically, with dobros and fiddles and the like, are The Lonesome Sparrows.
For a big jolt of electricity, I plug in with The Ivory Bills.
It's all here on the site. I hope you'll take some time to look, listen, and buy. Send me an e-mail. Check out a show sometime if you're in or around my hometown, New Haven, CT, New England, USA.
Song of the Month!
Posted: May 1, 2013
Nancy Lee and I have taken some pretty good train rides over the years. Trains make great sounds, and they'll get you from here to there.
Two JV Fotos
Posted: April 2, 2013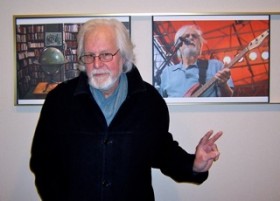 This is a telephone snap.
It's me standing in front of a fabulous live action photo (of me) taken by Mike Franzman during an Ivory Bills' show on the New Haven Green last summer.
About a dozen of Mike's images of Elm City people and places are currently on exhibit in City Hall, just outside the mayor's office. Drop by, give a piece of your mind to Hiz
Honor, and check out the great photos.
Thanks, Mike!